TornadoSpy
From Jtawiki
Description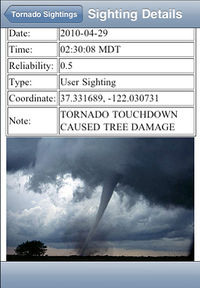 TornadoSpy [Download from ITunes] enables users to easily observe and report tornado sightings within seconds. All tornado sightings are visible on a built-in map. In addition to user sightings, it includes real-time tornado reports from the U.S. National Weather Service and professional storm spotters! Download now, and become a part of the fastest and largest storm spotting network.
On 5/10/10, a user spotted the Oklahoma City tornado 20 minutes before the NOAA report. This is a frequent occurrence since user reports are submitted and viewable immediately.
For additional information, refer to the TornadoSpy FAQ.
Demo
Notes
Now includes email alerts (testing has shown it is roughly 10 minutes faster than standard push updates)!
Features
View tornadoes worldwide at any time
Report nearby tornadoes with a simple touch.
Email alerts
Share and view tornado photos in seconds
Filter sightings by spotter ratings
View previous tornadoes
Write storm report notes
Rate other user sightings
Screenshots